René Egli Fuerteventura History
How windsurf and kite travel developed from unique experience trips to complete windsurfing and kiteboarding holidays
René was already a passionate Windsurfer in 1978 – see here the video and pictures of René´s first Windsurf School in Sitges / Barcelona from 1978 – 1980:
After discovering the unique wind conditions at Playa Sotavento, he started to build his company in 1984. In our History, read about how his initial small collection of 8 boards and 30 sails grew into the largest wind- and kitesurfing school in the world with over 25.000 annual customers:
René's arrival in Fuerteventura: the windsurf exclusivity rights of Hotel Gorriones Fuerteventura in his pocket.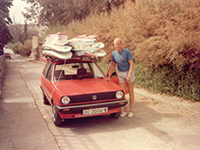 The warehouse and office are located in the Mini Club of Hotel Gorriones Fuerteventura from May onwards. In the first year, around 150 guests enjoyed the René Egli Windsurfing Service.
8 Boards + 30 Riggs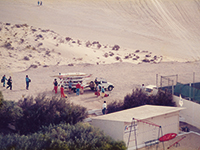 First brochure (in-house production - edition 100 copies)
René arranges the first collaboration with large tour operators (Neckermann, Sun&Fun), allowing travellers to conveniently book complete wind surfing holidays.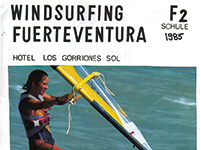 By taking part in trade fairs, René was able to further solidify the principle of complete windsurfing holidays - demand is rising steadily.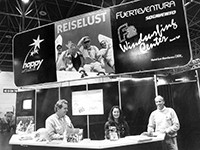 Establishment of the lifestyle brand Fuerte Action, thereby completing the package holiday concept.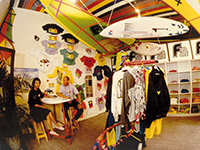 Office, warehouse, shop and own reception are built at Hotel Gorriones Fuerteventura in an area of 640 m2. The René Egli Center is built. First free shuttle to Costa Calma.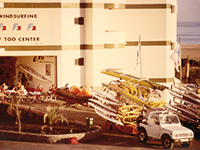 Paragliding as additional activity (until 1990)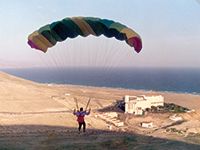 The windsurfing center gains shaded and wind-shielded relax-areas, a beach bar and sanitary facilities, making it significantly more convenient for the growing number of guests.
100 F2 Boards + 400 F2 Riggs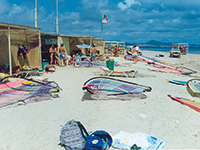 Launch of the Fuerte Action Bar, completing the holistic concept combining sport + fashion at a scene meeting place.
200 F2 Boards + 600 NEILPRYDE Riggs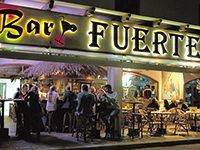 The René Egli Signature collection with wind & kite-surfing motifs expands the offer of the Fuerte Action brand as an independent range.
400 F2 & JP Boards + 1000 NEILPRYDE Riggs 80 CABRINHA Kiteboards + 200 CABRINHA Kites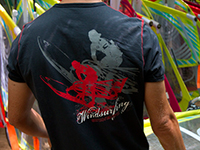 Stand-up paddling as a free additional activity
Market leader Starboard replaces F2 as board partner
400 JP & STARBOARD Boards + 1000 NEILPRYDE Riggs 120 CABRINHA Kiteboards + 350 CABRINHA Kites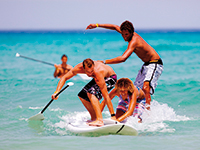 René opens the Beach-House, which unites Information & Reservation, a shop and a café with a unique atmosphere under one roof.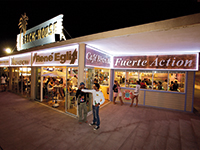 Together with the beach licences, René purchases by auction the exclusive right to teach in the lagoon.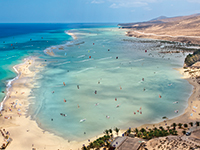 Beach Sailing as an additional activity (re-launched after 2002)
25.000 windsurfers and kite boarders book with René Egli. The homepage rene-egli.com reaches an average of 15.000 visitors per day in 2013.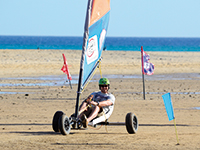 René opens the new Kite Center by Meliá in the palm gardens of the hotel Meliá Gorriones.
René Egli and Mystic start a successful cooperation.
400 JP & STARBOARD Boards + 1000 NEILPRYDE Riggs 180 CABRINHA Kiteboards + 400 CABRINHA Kites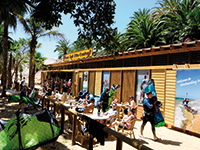 René opens the new Windsurf Center by Meliã.
100.000 copies of the 2014 prospects are printed.
450 JP & STARBOARD Boards + 1000 NEILPRYDE Riggs 250 CABRINHA Kiteboards + 650 CABRINHA Kites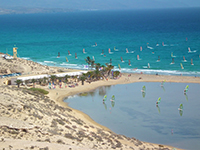 On the 35th Anniversary René Egli by Meliá introduces Severne Sails as new partner.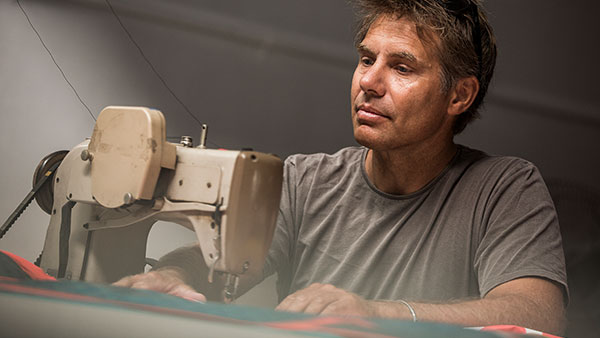 Project: Top-class windsurf center on a site measuring 1.100 m2