Windsurf-Rental: Sailpool 2018
Included in the rental depending on the booked category
Depending on the category booked, all sails are rigged with the following components: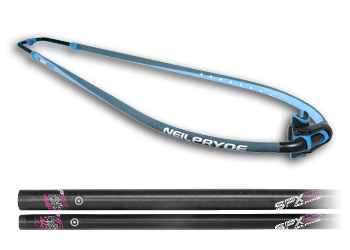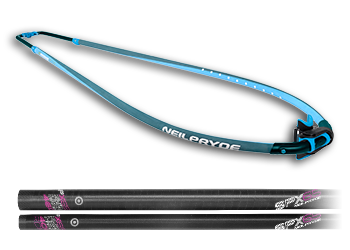 SPORT & WORLD CUP line
XA Aluminum Boom
SPX65 Mast with 65% carbon fibre
XF Aluminium Boom
SPX65 Mast with 65% carbon fibre
High quality components with excellent performance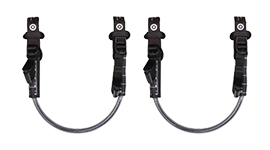 All sails are equipped with the high quality NeilPryde Vario harness-lines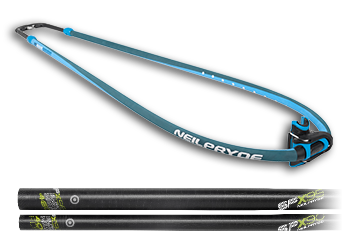 PREMIUM line
XC Carbon Boom
SPX90/95 Mast with 90-95% carbon fibre uncompromising rigidity at the lowest possible weight
The "Wizard" can be used exclusively with a booking for the JP Freestyle or the Starboard Flare as a fixboard
The "EVO 9", "V8" and "Flight" can be used exclusively with a booking for the JP Super Sport or the Starboard Isonic as a fixboard
---
Compact Clew
The compact Clew improves control of the Sail just twice: by reduced Boom length and improved sail twist. We use the compact Clew depending on the type and Characteristics of the sail in three different Configurations.
Moderate compact Clew for a compact outline with rider focused surface area and improved sail twist.
The clew is positioned forward from the trailing edge, the profile behind the clew is able to twist off when wind pressure increases. The sail automatically adjusts is shape, preventing the draft from moving back and controlling excess power.
Possibility to adapt the sail's performance to various conditions: Outer clew position can be used when you are looking for extra power and upwind lift while the inside clew setting provides better power release and control.
Forceline Panels
Structural laminated panel with radiating yarns that seamlessly absord and disperse loads into the sail body.
Combat HD
Versatile use
Captivating in all conditions
Combines high end construction with comfortable handling
Sizes
3.3 | 3.7 | 4.0 | 4.2 | 4.5 | 4.7 | 5.0 | 5.3
Range of use: ALLROUND WAVE
Fusion HD
A real all-rounder for all wind and water conditions
For everything from competitive races to light freestyle moves
Forgiving handling
Range of use: FREERIDE
Ryde HD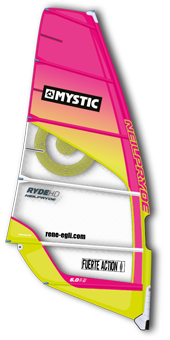 Designed for classic flat water freeriding
Starts planning early and controlled manoeuvring
Perfect for every type of free move and freeride board
Sizes
6.0 | 6.5 | 7.0 | 7.5
Range of use: FREERIDE
Speedster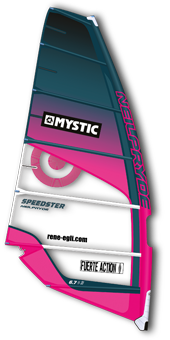 balanced and offers greater performance and wind range
easy to rig, uphaul or jibe
Range of use: FREE RACING
Wizard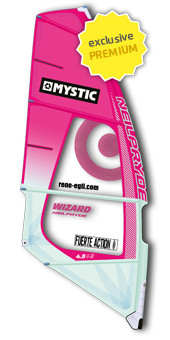 The ultimate Freestyle sail
Starts planning early, stability and secure feeling for tricks
Can be used exclusively with a booking of PREMIUM Freestyle Fixboard (Starboard Flare or JP Freestyle)
Sizes
3.8 | 4.2 | 4.5 | 4.8 | 5.1
Range of use: FREESTYLE
V8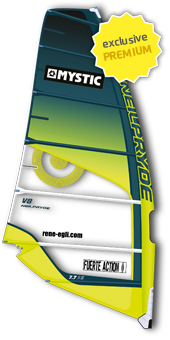 Race-sail-like performance and extremely early planning
Can be used exclusively with a booking of a PREMIUM slalom fixboard (Starboard Isonic or JP Super Sport)
Range of use: TWIN CAM RACING
RS:Racing Evo 10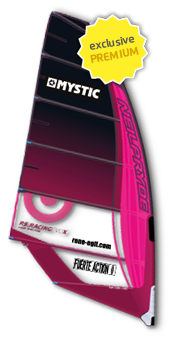 Completely new design for the ultimate speed with optimal control
Can be used exclusively with a booking of a PREMIUM slalom fixboard (Starboard Isonic or JP Super Sport)
Range of use: PRO-RACING
RS:Flight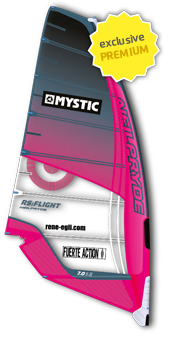 Specifically developed to perform both on Wind foil and slalom boards
the sail delivers quick and precise response
Sizes
5.4 | 6.2 | 7.0 | 7.8
Range of use: FOIL / FREERIDE